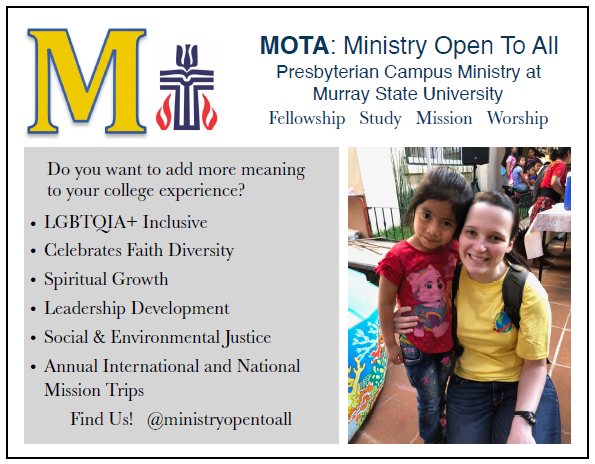 MOTA is the Presbyterian Campus Ministry at Murray State University. We seek to provide a safe place for everyone to examine, question, and grow in their faith so that they can share that faith with others. We meet at the campus house at 1606 Poplar Street. There is a mix of worship, fellowship, discussion, and prayer. We also have Sunday School that meets at 10:00 a.m. on Sundays before church. Our Campus Ministry Director is Lisa Polivick. Our  MOTA intern for 2020-2021 is Asia Blanton.
What we do:
Committing to programs to: eradicate poverty & dismantle systemic           racism as part of the Matthew 25 Program
Free Wednesday Night Dinner & Bible Study
International Mission Trips
National Mission Trips
Local Outreach Service Projects
Lake Retreats
Bonfires
Christmas Party
Montreat College Conference
 
Adopt-A- Student Program
MOTA students have the opportunity to participate in this special program where members of First Presbyterian Church "adopt" you. These "adopted" parents provide a second, more local family for students that fosters relationships across the generations. Adopted families are there to support students through their college experience and help them adjust to life in a new town.
Hire-A- Student Program

Through this fundraising program, members of First Presbyterian Church are able to "hire" MOTA students to perform odd jobs. In return, MOTA is paid for the completed task. Past jobs have included cleaning, painting, yard work, planting, simple repair work and organizational tasks.
For Faculty and Staff
Of interest to Murray State faculty and staff is our Head and Heart monthly discussion group which usually meets at 6 pm at the church on the third Thursday of each month. This group generally discusses books with a progressive or emerging church perspective.
Come and join our lively discussions. We welcome all points of view of matters religious and spiritual–and we reject none! Just bring your head and your heart!
For More Information
Facebook Group: Presbyterian UKirk Murray State M.O.T.A.
E-Mail:ministryopentoall@gmail.com